• To order correct size
1. Please measure your window size before ordering.
    Make sure your window size is same or little smaller than print size being ordered. 
    Measure 3 areas of your window (refer diagram), heigh and bottom width and top width
    height and width (most case, bottom width longer for vehicles). You should order larger print size than window size.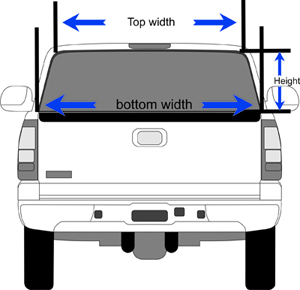 Any questions, please contact us.
• Installation/Removal

1. The print comes with white backing paper, installation sounds as easy as peel off and stick and trim off along the edge of the window,
however, applying large sticker on curvy window wouldn't be as easy as it sounds, if you don't have an idea.
We strongly recommend you to take it to local Tint Shop, for professional clean installation.

2. Installation instruction will be included in your order package.
For DIY, self installation, make sure to clean the window throughly before applying the print on the windlow.
position the print, and peel off middle part (center) of the print, start applying outward. then trim off excess area along the edge of the window.
there are so many installation videos on YOUTUBE, please watch them before start installing the print.
3. For removal within short period of time, about 6 months or less, should be easy peel off, try small part of the edge first to see if it comes off smoothly.
For removal after long period of time, hardened glue on the back of the print won't come off easily, in that case, soften, melting with heat gun, torch light would
do the trick, will help for easy clean removal, use grease removal spray, if necessary, to remove any residue, gum left on the surface.